Along with J.R.R Tolkien's Lord of the Rings trilogy, The Hobbit, has been banned in schools across the UK. (Lisa Fotios from Pexels).
It's Banned Books Week (September 22-28) and while it still boggles my mind that people would ban books in the first place, this week is dedicated to celebrating our right to read.
In order for a book to become banned, a person or group needs to challenge it by demanding its removal from a library. Reasons for a challenge are as varied as the books themselves and include graphic depictions of sex, romanticizing suicide, using God's name in vain, and supporting the gay agenda. A successful challenge results in a ban. Young adult fiction is the most banned genre (I'm looking at you Judy Blume) and most requests for book bans are submitted to school libraries.
People ban books to shut down material that challenges their accepted worldview or makes them uncomfortable. Banners hope that by removing such books from the shelves they can keep others safe from the book's incendiary ideas. But you can't kill an idea and good art is meant to comfort the disturbed and disturb the comfortable.
So if you're in the mood to be disturbed, pick up one of the following scary banned books and exercise your right to read.
Flowers in the Attic (1979)
Why it was banned: Depictions of child abuse, demonizing religion, incest.
This 1979 Gothic novel by V.C. Andrews is the first book in the Dollanganger Series and tells the harrowing story of the Dollanganger twins Cathy and Chris who are kept locked in the attic of their grandfather's home with their two siblings Cory and Carrie. There they are abused by their grandmother and secretly poisoned by their own mother whose inheritance is contingent on her having no heirs. V.C. Andrews is the QUEEN of fucked-family fables and if you enjoy Flowers you should also check out her stand-alone novel My Sweet Audrina about a young girl struggling with a damaged memory and PTSD.
Scary Stories to Tell in the Dark (1981)
Why it was banned: Graphic violence and negativity.
A collection of short horror stories for children written by Alvin Schwartz and originally illustrated by Stephen Gammell, Scary Stories was a milestone of fright for 80's kids. If the stories of hook-handed killers, people dying of fright, and haunted houses didn't keep you up at night, then Stephen Gammell's graphic illustrations would. Two of my favorites were "The Big Toe" where a young boy finds A HUMAN TOE and brings it back home to his mother who chucks it into a stew 🤢, and "The Bride" where a woman playing 'hide and seek' on her wedding night accidentally locks herself in a trunk that becomes her tomb.
Lord of the Flies (1954)
Why it was banned: Violence and inappropriate language.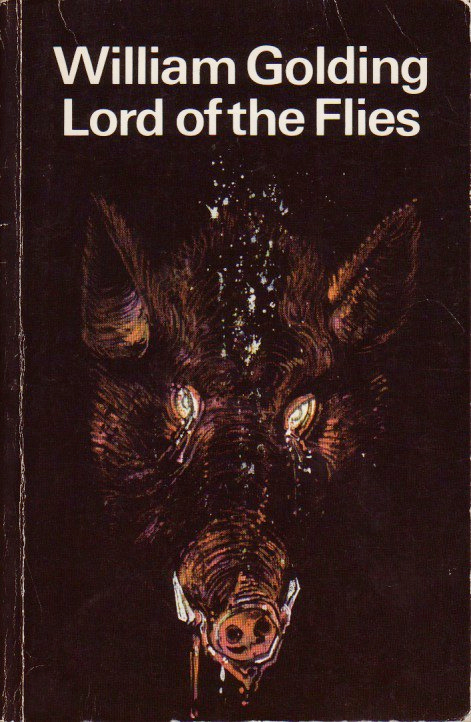 William Golding's Nobel Prize–winning novel features a group of boys stranded on an uninhabited island who descended into madness and murder. Long considered a cautionary tale about humanity's inherent barbarity, plans to turn the novel into a movie with an all-girl cast suggest that toxic masculinity might be the real cause of the protagonists' downfall.
Lord of the Flies starring only girls: "Girls get marooned on an island. Band together to find food, shelter, rescue. Nobody dies. The end."
In Cold Blood (1966)
Why it was banned: Violence, sex, and profanity.
With this novel, Truman Capote claimed to have created New Journalism, a school of reportage that uses techniques from fiction writing to create larger than life stories based on fact. Capote definitely stretched the truth for dramatic effect, but his depiction of the violent murder of the Clutter family and his sympathetic portrayal of one of their killers Perry Smith (who he became close to during writing) will chill you to the bone.
American Psycho (1991)
Why it was banned: Depictions of murder and sexual violence.
Bret Easton Ellis' controversial novel depicts the depraved crimes of a serial killer and Manhattan businessman Patrick Bateman. Eastman was critiquing American yuppie culture and the "greed is good" mentality that was rampant during the 80's. Bateman lists succinctly the atrocities that he commits and they are paralleled by the lists of the designer clothes he wears, the cars he drives and the sound systems he listens to. This represents how American capitalism has commodified human bodies and reinforces the banality of Bateman's evil.
For more banned books, visit the American Library Association's list of frequently challenged books.